French Court Delays Decision over Extradition of Majid Kakavand
Reports
French Court Delays Decision over Extradition of Majid Kakavand
February 17, 2010

Download PDF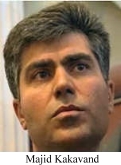 A French appeals court decided February 17 to delay a decision over the question of extraditing Majid Kakavand, an Iranian citizen, to the United States to stand trial on charges of exporting U.S. electronic goods to Iran. Kakavand is charged in the United States with fifteen counts of conspiracy, smuggling, money laundering, fraud, and making false statements. Kakavand allegedly deceived U.S. companies into selling goods to his Malaysian company, Evertop Services, which U.S. authorities allege was a front company used to divert goods to Iran. His alleged customers in Iran included entities named on U.S. sanctions lists because of their involvement in procuring goods for Iran's ballistic missile and nuclear programs, Iran Electronics Industry (IEI) and Iran Communications Industries (ICI).
Kakavand was arrested while on vacation nearly one year ago in Paris pursuant to a U.S. arrest request. The French court deciding the extradition matter has delayed its decision now on six occasions due to the sensitivity of the matter. The judge delayed the decision this time in order to obtain technical opinions about the case from the French Ministry of Defense. He reportedly seeks more information about the potential uses of the goods allegedly exported by Kakavand, including whether they are dual-use items with military applications. Kakavand is out on bail and living in Paris pending a final decision over his case.
To learn more about the case of this alleged smuggler, click here to read the ISIS case study on Majid Kakavand. The U.S. criminal complaint can be accessed here.
To read more about the recent efforts of the United States to arrest and prosecute alleged Iranian smugglers abroad, read the ISIS capstone piece, "Busting the Members at the Core of Iran's Smuggling Networks for Nuclear, Missile, and Conventional Military Goods," and four case studies on alleged Iranian smugglers:
Capstone:
Busting the Members at the Core of Iran's Smuggling Networks for Nuclear, Missile, and Conventional Military Goods by David Albright, Paul Brannan, and Andrea Scheel Stricker February 16, 2010
Four Supporting Case Studies:
Inventive U.S. Sting Operation Catches Iran-Based Military Equipment Smuggler David Albright, Paul Brannan and Andrea Scheel Stricker February 16, 2010
Former Iranian Ambassador Arrested in Britain for Allegedly Assisting Iran-Directed Smuggling Scheme David Albright, Paul Brannan, and Andrea Scheel Stricker February 16, 2010
Middleman Majid Kakavand Arrested for Allegedly Directing Malaysia-Based Iranian Illicit Procurement Scheme David Albright, Paul Brannan, and Andrea Scheel Stricker February 16, 2010
Arrest Made in Germany of Core Iranian Procurement Agent David Albright, Paul Brannan, and Andrea Scheel Stricker February 16, 2010